Best Verizon Wireless Smartphones
Verizon Wireless is one of the largest wireless networks in the USA, and is expanding their super fast 4G LTE Network across the nation. They have some of the best smartphones on both their 3G and 4G networks and have come out with a stellar product line-up over the last few months. Below we are taking a look at the top rated Verizon Wireless smartphones on the market today.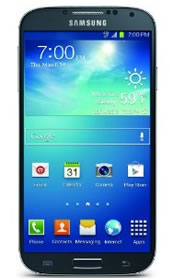 #1: Samsung Galaxy S4
What we like:
Comes with Android Jelly Bean 4.2.2 right out of the box
HD Quality 13 megapixel camera with a 2 megapixel rear facing for video chats.  You can use both cameras at the same time, and erase unwanted people from the shot
Powerful 1.9 GHz quad core processor
Very nice 5.0" full HD Super AMOLED Corning® Gorilla® Glass 3 Touch Screen Display
You can answer the phone or browse photos or music using a wave of your hand, and use your phone as a TV / DVR remote
Could be better:
Sceen is a little dimmer than the competition
Would like to see the plastic design refined to look more expensive
Some users have complained about excessive bloatware
Summary of the Samsung Galaxy S4
The Samsung Galaxy S4 is considered the top smartphone on the market right now, even beating out the iPhone 5 with many users. The high end features and optimal performance delivers precisely the type of sophisticated smartphone experience many users are looking for in a device.  From operating your DVR to managing every detail of your personal and professional demands, the Galaxy S4 does it all.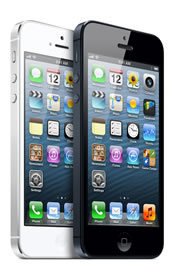 #2: Apple iPhone 5
What we like:
Top to bottom redesign is great – longer, larger screen, sleek and durable outer shell that uses metal and brushed aluminum, feather light
Faster A6 processor
Though the camera is still 8mp – the added features allow much nicer pictures than the iPhone 4
Faster 4G LTE capability that can rival wifi service
Beautiful 4 inch retinal display with more viewing real estate thanks to longer design
Could be better:
The smaller connector renders many accessories unusable without an adapter
Sprint and Verizon models cannot use voice and data simultaneously
Summary of the Apple iPhone 5
The upgrades made to the iPhone 5 are elements we've all been waiting to see.  The new design is great and thought the lengthening is subtle, the amount of additional viewing real estate is perfect without becoming monstrous.  The addition of 4G LTE compatibility, high end touches to design, features, and functionality do put it in with elite more sophisticated smartphones, and easily rates them as one of the top devices in the industry.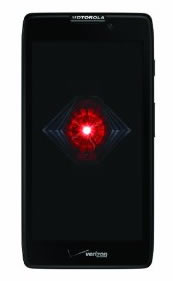 #3: Motorola Droid Razr Maxx HD
What we like:
Unbeatable battery life
Large, eye popping 4.7" Super AMOLED HD Display is perfect for multimedia experience
Build quality is excellent with an elegant and sleek design
Powerful and fast 1.5 GHz dual core processor
Tutorials that are preloaded are actually really helpful and make it easy for even a first time smartphone user to get started
Could be better:
A few complaints have come in regarding bloatware
Camera image quality is subpar
Summary of the Motorola Droid Razr Maxx HD
Surpassing every other smartphone in the industry, he Motorola Droid Razr Maxx HD is the king of the hill when it comes to battery life.  It is also a feature rich, high end device with an impressive performance, pushing the limits of the role that we expect our mobile devices to play in our life.  The processor is fast and powerful, making multitasking and multimedia experiences exceptional.  The vivid eye popping display takes the visual capability of the Droid Razr Maxx to the 'maxx'.  Our only complaint is the quality of the camera pictures, which could be better.