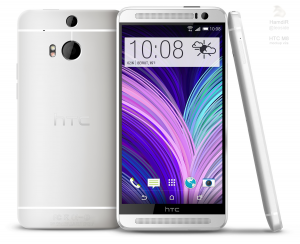 The new HTC One, or the second generation model is about to be released and according to one online source, it will be going to the Verizon Wireless network.  The smartphone will be available on the 25th of this month, but until then consumers are getting teased with leaked images and other information regarding the replacement for the original HTC One.  The new HTC One, or the M8 as it is better known, has some very impressive features and thanks to a bunch of leaked information, there is little left to the imagination.
The information regarding the new HTC One going to the Verizon Wireless network comes by the way of an FCC filing and an official press render that showed up online this week.  The photo was sent out via an account on Twitter, one that is well known for good unofficial information, and that clearly showed the new device with Verizon Wireless 4G LTE branding on it.  The same Twitter account sent out an image that showed the same device with AT&T branding this week.  T-Mobile, Sprint and US Cellular models will be released as well, but most likely after AT&T and Verizon Wireless.
Verizon Wireless has been known for taking its time when it comes to launching new smartphones.  Take the original HTC One for instance; as it was launched on the Verizon Wireless network months after all of the other carriers were selling it.  Verizon is also well known for making its logo very visible on the models that it sells.  The Galaxy Note 2 came with a home button that featured the Verizon Wireless logo for instance.  The new HTC One images only show a smaller, lighter, logo for Verizon near the very bottom of the back side of the display.
The FCC filing is not a confirmation of the device release date, but it is usually one of the final steps when it comes to getting a new wireless device to the public for purchase.  The FCC filing confirmed four of the five major mobile carriers in the United States and Verizon Wireless is one of them.  The new HTC One is expected to arrive with a 5-inch 1080p HD display with quad core processor and 2GB of RAM, plus a microSD card for memory expansion and Android 4.4 KitKat right out of the box.