Best T-Mobile Wireless Smartphones
T-Mobile is one of the four primary national wireless carriers, and boasts having the very first and the largest 4G network in the nation.  At this point, T-Mobile's 4G service consists of HSPA+ technology, that offers speeds that are up to 3x faster than Verizon's 3G service,  while its not LTE, it is still super fast.  There is no LTE in sight for T-Mobile, however they are in the process of being acquired by AT&T who is preparing to launch their LTE technology in the very near future.  T-Mobile may not have the fastest 4G service on the scene, but they've got some top of the line 4G smartphones in their portfolio.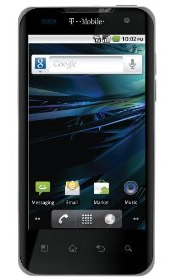 #1: LG G2X 4G
What we like:
Top rated 1GHz Nvidia Tegra 2 dual-core processor
Sharp, sophisticated design
HD Quality 8 megapixel camera with 1.3 megapixel rear facing for video chats
1080p HD and 3D Video Recording and Playback
Advanced video recording features, including voice activated recording
Could be better:
Price tag of $249 with new 2 year contract is pretty hefty, but you can find reduced pricing at authorized T-Mobile retailers
T-Mobile's 4G HSPA+ service does not offer LTE or WiMax speeds yet
Summary of the LG G2X 4G
The LG G2X is a top of the line 4G smartphone that is feature rich, offers a crazy fast processor, deep Google integration with the high quality Android 2.2 Froyo operating system, and a host of savvy multimedia options and functions.  The G2X delivers a fast, high quality performance with advanced technology, such as voice activated video recording and more.
#2: Samsung Galaxy S 4G
What we like:
1 GHz Samsung Hummingbird processor is fast and great multitasker
High-end multimedia features and options
4-inch capacitive touchscreen Super AMOLED display renders stunning visuals
Full HTML support for superior Web browsing
High quality cameras and HD video recording
Could be better:
Not a huge amount of internal memory, however an included 16 GB microSD card and expansion options solve this
No flash on camera
Summary of the Samsung Galaxy S 4G
The Samsung Galaxy S 4G smartphone is a fantastic option for T-Mobile customers, delivering a top notch performance, plenty of high-end features, a rich multimedia platform, the high quality reputation that comes with the Samsung brand.  The Galaxy S proved itself to provide crazy fast data speeds, and superior visuals on its Super AMOLED Plus display.
#3: T-Mobile HTC myTouch 4G
What we like:
Thin, sleek body style also offers sturdy build quality
1 GHz Snapdragon processor provides plenty of power and speed
Advanced video chat and video mail messaging features
Performed well in speed tests offering fast data speeds on T-Mobile 4G HSPA+ network
DLNA capability for wireless sharing of files and content
Connectivity includes Mobile Hotspot and tethering options
Has exclusive features that enhance user experience, such as Genius Button for multiple voice commands
Could be better:
Speakerphone volume is lower than we'd like
Would have liked to see HTC Sense UI on this phone
Summary of the HTC myTouch 4G
The HTC myTouch 4G smartphone was designed by HTC specifically to optimize the T-Mobile 4G network, and has turned out to be a phone that can delivery a high quality performance, and bring some savvy surprises along with it.  Its customized HTC features such as the Genius Button, Faves Gallery and myModes allow you to customize your experience.  The myTouch 4G has a lot to offer T-Mobile customers looking for some unique features.