Best AT&T Wireless Smartphones
AT&T mobile broadband service is among the fastest 3G wireless networks out there, and has now added 4G service in the form of HSPA+, and their recently launched 4G LTE service.  A robust selection of savvy smartphones adds to the appeal of AT&T's reliable and efficient network.  To help you keep up with the top AT&T Wireless devices, we've provided an overview of the highest rated AT&T smartphones currently available.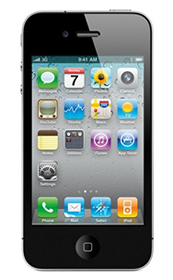 #1: Apple iPhone 4S
What we like:
Thinner, sleeker, design with a more vibrant display and improved resolution
Improved 8MP camera and 1080p HD video capture
New A5 dual core chip processor delivers improved performance
New iOS 5 offers an expanded feature set and advanced functionality
AirPlay mirroring to Apple TV support at 720p
iCloud provides over the air synchronization and pushes content and data to all devices
Could be better:
No 4G capabilities
Many consumers were hoping for a larger display on the 4S model
Summary of the Apple iPhone 4S
With an impressive feature set, superior multi-tasking, an improved dual core processor and upgraded operating system, and the impressive Siri virtual assistant, the Apple iPhone 4S is not only the best iPhone model to have been released, but in our opinion, the best smartphone period.  Despite Apple's refusal to implement Flash support, the multimedia options on the iPhone 4 rock, making this phone a great option for both work and play.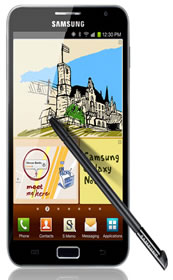 #2: Samsung Galaxy Note
What we like:
5.3″ HD Super AMOLED WXVGA Touchscreen Display is stunning
Up to 32 GB of memory is more than adequate
1.25GHz dual core processor works smooth with the Android 2.3.6 OS
Has best in class 8 megapixel camera
Custom Samsung User Interface
Integrated S Pen for 'writing' on touchscreen
Could be better:
S Pen is awkwardly small and experiences slight display
Price point is a bit hefty
Summary of the Samsung Galaxy Note
The Samsung Galaxy Note is the first of its kind and has been dubbed the first 'phablet' with its hybrid smartphone – tablet design.  The Galaxy Note features a fast dual core processor and a massive 5.3 inch HD Super AMOLED WXVGA touchscreen display.  The integrated S Pen allows you to use your Note to take notes – literally.  The Galaxy Note is revolutionizing mobile technology and is expected to have launched a whole new segment of mobile devices.
#3: Samsung Galaxy S II Skyrocket 4G
What we like:
4.5″ Super AMOLED Plus touch screen renders vivid, rich, graphics and images
4G LTE enabled
Samsung AllShare DLNA technology makes media streaming to HDTV easy
Fast, reliable, and efficient performance on all levels
HDMI and MircoSD ports for easy file sharing
Best in class 8 MP camera and 1080 HD video capture
Could be better:
Could use a more powerful battery
Would like to see expandable storage beyond 16 GB
Screen is not HD
Summary of the Samsung Galaxy S II Skyrocket
The Samsung Galaxy S II Skyrocket was one of AT&T's first 4G LTE enabled smartphones, and is currently one of its top performers. Currently awaiting the latest Android ICS OS upgrade, the Skyrocket is running on the Gingerbread platform. The Skyrocket lives up to the reputation that the Galaxy S II models have established and helped Samsung outsell the iPhone worldwide. This mobile device is built for both play and work with impressive mobile entertainment features as well as a super fast processor and excellent multi-tasking capability.