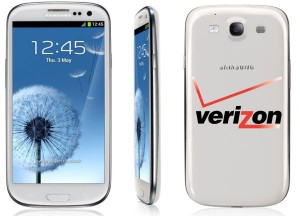 The Samsung Galaxy S III was the best-selling phone on the planet in the 4th quarter last year. Also the first Android phone to ever outsell an iPhone (the iPhone 4S) while both handsets were available from all major wireless carriers, the Galaxy S III had a very successful 2012. The handset reached the Verizon Wireless 4G LTE system in the United States on July 12 of last year, and is currently offered in both 16 GB and 32 GB models.
The Galaxy S III for Verizon is available for a reduced sale price now starting at $99.99.
Verizon is generally the last wireless carrier to receive Android operating system updates, for whatever reason, and the handset is now happily providing the Jelly Bean 4.1 Android operating system. That OS upgrade provides a faster and smoother user experience, better camera operation and an improved Google Now. Samsung has included their TouchWiz UX UI Android overlay, and the handset supports multitouch, capacitive gestures for device navigation.
Slim and light compared to similar 4G smartphones with the same size display and features, the handset measures 0.34 inches (8.6 mm) in thickness and weighs 4.70 ounces (133 g). The display is large at 4.80 inches, and is protected against everyday use and abuse by a scratch resistant layer of Corning Gorilla Glass 2. Pixel density is high at 306 pixels per inch, and this creates a high-end display resolution of 720 x 1,280 pixels.
That Super AMOLED screen on the Samsung GS3 uses more than 16 million separate colors to render visual displays, and standard light and proximity sensors are on board. Those sensors automatically adjust for the proper brightness considering the amount of ambient light present, also dim the display after long periods of inactivity, and these two actions help preserve battery power. That leads to a full 15.0 hours of talk time from a single battery charge, nearly twice the 4G industry average of 8.0 hours.
Standby battery power runs 8.3 days on a single charge of the 2,100 mA battery on board the handset, and the central processor is a dual core 1.5 GHz Krait CPU. A full 2.0 GB of RAM system memory is on board, and a microSD slot provides storage expansion. The camcorder is an 8.0 megapixel model capable of simultaneous HD video and image capture, and records video in 1,080P HD resolution. Up front facing the Verizon Galaxy S III 4G owner is a 1.9 megapixel chat cam, which can be used for video call support or to snap a portrait snapshot. Popular applications Facebook, YouTube, Picasa and Twitter have been pre-installed.
You can purchase the Galaxy S III for Verizon at a discounted price tag now starting at $99.99.