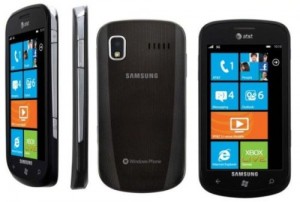 The end of the year would in all likelihood see Samsung release two new phones that run on the Windows Phone 8 operating system. This marks a change in Samsung's phones which have been almost exclusively running on the Android OS till now. It is hard to say now whether this is just Samsung's effort to diversify its lineup or if it marks the beginning of a paradigm shift that will see the Korean giant moving away from the Android. The latter possibility seems quite unlikely but some analysts are willing to vouch for it.
Samsung's intentions to develop phones for Windows 8 were revealed in documents that were submitted to the court as part of the trial between Apple and itself. Among the two phones, one is labeled the "Odyssey" and it is going to feature a dual core processor from Qualcomm that is clocked at 1.5GHz, and Samsung is already placing its bets on this one by calling it "iconic" as it is 4G LTE compatible. The other device is called the "Marco" and is going to feature a 4" Super AMOLED display and will also be 4G LTE compatible.
This information is unofficial but it is still good news for Microsoft which is trying to market the Windows Phone 8 through various manufacturers. So far, Nokia has had a near exclusive relationship with Microsoft in this area but with Samsung's entry, Microsoft will have other options. This will definitely improve ties between Samsung and Microsoft but it might cause a dent in the successful relationship between Samsung and Google. It is unlikely that Samsung is going to drop Android and might in fact release the Galaxy SIV on Android, but it does give the Korean giant other options when it is coming up with the next generation smartphones. The major downside is that, Android might be losing out on smartphones that could otherwise be its own.
The news that Samsung is going to adopt Windows Phone is great for Microsoft on other fronts too as Samsung's approval will mean that other manufacturers will take it up as well. When this happens, it is possible that other manufacturers are going to shift to Windows Phone from Android but till then, Android can revel in the fact that its devices from Samsung have outsold the iPhone by 20 million units. Apple too is celebrating as the demand for the next iPhone seems skyrocketing, breaking all records set by the iPhone 4S.