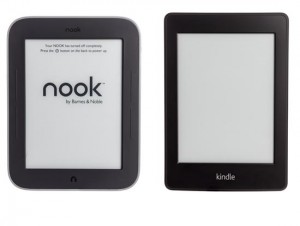 With the introduction of the Nook Simple Touch with Glow Light by Barnes and Noble, it was inevitable that Amazon came up with a similar new version of its popular eBook reader, the Kindle. The new version is called the Kindle Paperwhite 3G and features edge lighting, just like the new Nook and is on sale for $179. While the lighting is clearly the most noticeable addition to the Kindle Touch 3G, there are some other subtler improvements that are sure to make the reading experience more enjoyable. The new version is in direct competition with the aforementioned Nook, which is currently priced at $163.
The Kindle Paperwhite has a modified design and Amazon's move towards a unified color scheme in its lineup is evident as it is black now instead of dark grey. The dimensions are almost similar as the Touch and it retains the matte finish of the back giving it an overall superior aesthetic feel when compared to the new Nook, which is cased in thick industrial rubber. Though the Paperwhite is thinner than the Nook, it is still an ounce heavier.
There are some other changes, which make a move towards design minimalism (whether you like it or not). For starters, it doesn't have the home button that was there on the Kindle Touch and it doesn't have any page turning buttons like the Nook does. Moreover, Amazon is continuing without an AC adapter in the box. The most surprising removal of all was the headphone jack. The Kindle Touch had one, which allowed for audiobooks and music listening and this is one area where the Nook clearly triumphs.
Connectivity-wise, the Paperwhite continues the impressive legacy. It supports the AT&T 3G network which works free of cost all around the world but access is limited to Wikipedia and book purchases. WiFi, as always, is present and works like a charm. An interesting change comes with respect to the leather accessory which now comes in six different colors and a textured finish, making it more resistant to scratches and dust and altogether more durable. The cover also has a magnetic clasp that turns the screen on and off, similar to covers for the iPad.
The display has improved too, with 212 ppi and improved response time. The e-ink screen is as good as ever! Edge lighting is the most impressive feature here and makes reading a pleasure and between the two readers, the Kindle is the clear winner. There are also a few layout changes in the home screen of the Kindle which allow it to fit in more content, mostly due to the increased pixel density. On the whole, the Kindle is worth the extra $15 over the Nook!