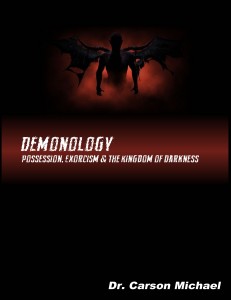 No, Amazon has not recently decided to dabble in divination, but they most certainly have a growing section in their Kindle store where books on this topic can be found. While it may not be the most commonly searched category in the Kindle Store, books on demonology do get a piece of the action, and hence their own little digital corner of the Kindle eBook Store. With the Kindle App available for computers, tablets, smartphones, and desktops, you don't even have to own a Kindle eReader to read ebooks form the Kindle Store, so authors are enthusiastically focusing on the Kindle Store as an effective platform for getting their materials out to the public.
A recently published book entitled Demonology: Possession, Exorcism and the Kingdom of Darkness by Dr. Carson Michael has made an explosive debut in the Kindle Store. Having only been published this past week, the book has already received 5 stars from readers, and is being well received by its target audience. The book is unique in the fact that it is a combined psychological and spiritual perspective,  taking a rare approach at looking at demonology and evil, including the origins of divination, many of which lie in Solomon's influence, a subject that the author spends time explaining in an easy to understand way. Dr. Michael is a PhD Psychologist who has spent more than 20 years in mental health settings, and has spent a great deal of time refining his methods of differentiating between true mental health issues and demonic spiritual issues, two situations which can mirror each other rather impressively.
In Demonology: Possession, Exorcism and the Kingdom of Darkness, the author describes personal encounters and experiences with demonic forces, and provides scripture to back up all claims and stated facts. These components have resonated effectively with readers who have called the book captivating and a great read. Readers have also commented on his consistency to backing up his information with scripture, thereby providing solid plausibility for those skeptical that demonology has any place in the Christian world. The book looks closely at the structure of satan's kingdom and what demons can and cannot do, as well as practices such as seances, magic, and divination, and points out very candidly what God allows and forbids.
In an interview with the author, Dr. Michael  indicated that one of the reasons for releasing this book now was due to the growing interest in the supernatural, and the large amount of misinformation being circulated in books, on TV, and on the Internet.  He intends to ensure that people interested in demonology and related topics have an authentic resource that lines up with Biblical scripture and true life experiences.
The Kindle Store publishing platform provides a process for authors to engage in a fast and inexpensive way to get their books out into the marketplace in one of the most popular book stores in the world. The low cost of publishing ebooks allows authors to charge lower prices while still making a profit, which definitely benefits readers as well. The Kindle Store also has a book lending program where you can borrow ebooks free of charge. Not very long ago, before ereaders were available, the publishing process was a lengthy and expensive one, eliminating many talented authors from sharing their work, especially new authors such as Dr. Michael. eReaders have revolutionized reading altogether, and we can now enjoy our favorite books on our electronic mobile devices no matter where we are. Amazon has made it easy with their free Kindle apps and their low cost digital book library. You can buy Demonology: Possession, Exorcism and the Kingdom of Darkness for $4.99, or borrow it from the Kindle Lending program.