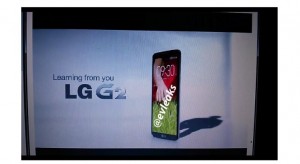 About one week ago, AT&T, T-Mobile and Verizon Wireless all released information regarding the fact that the new LG G2 would be coming to their networks and Sprint was left out of the initial bunch of announcements, but that all changed today.  Sprint recently announced that it would be getting ready to start taking pre-orders for the new LG G2 on the 11th of October.  However, Sprint did not mention exactly when the device would be shipping, but did offer up that it would be ready "in time for the holidays."
Looking back at the announcements from the other major mobile carriers, it looks like the Sprint model is going to come to consumers almost one month after the rest of the country gets their hands on it.  AT&T announced that it would be shipping on the 13th of September, with Verizon Wireless just one day before that and T-Mobile coming by the 18th of September.  Sprint did not offer up a reason why they would wait that long to release a high end handset that has already been making headlines based on its features and specs alone.
One reason that Sprint might be waiting could have to do with the fact that the new iPhone 5S is about to be released by Apple and they did not want the LG G2 to compete directly on release day.  Sprint will be looking to get around $199 for the new LG G2 and that is after you sign a new two-year contract.  All of the customers that take advantage of the online pre-order process through Sprint will be getting a free Quick Window case, which is actually a $49 value.  The free gift is not going to boost sales all that much, but it is a nice touch to show that you are willing to "wait in line" for the new LG G2.
The LG G2 is going to replace the Optimus G device and it will replace it with a bang of features and high end hardware specs.  The first thing you are likely to notice is the super fast, quad-core Snapdragon 800 processor from Qualcomm clocked at 2.3GHz, 2GB of RAM and a 13MP camera on the back side of the device.  The LG G2 will feature a huge, 5.2-inch IPS display with a full 1080p HD resolution as well.