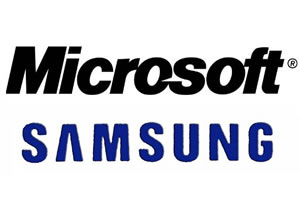 This Wednesday, Samsung Electronics, the largest electronics manufacturer of South Korea, unveiled several software agreements with Microsoft and Intel as the second largest cellphone manufacturer of the world attempts to strengthen its push for mobile software. Samsung's ascent to the leadership of the smartphone market has been fairly quick, aided by its strong portfolio of devices based on Google's Android platform.
According to analysts, the deals announced this Wednesday are a signal of Samsung's aim of lowering its dependence on Android OS after Google acquired Motorola Mobility for $12.5 billion this August. Matthew Thornton said that the deal between Motorola and Google has certainly hampered Samsung's trust on the Google OS.
The deal between Microsoft and Samsung is aimed at the development and marketing of phones based on the Windows Phone platform, and also covers a deal for a wide cross-licensing of patents. Samsung has already been a long time customer for Microsoft software. It was also reported that two Linux software groups which are backed by Samsung and Intel respectively, announced this Wednesday that they have grouped together for developing a new platform for smartphones and some other devices. According to the deal, the Linux Foundation and LiMo Foundation are effectively merging together their Meego and LiMo mobile platforms and now hope to get better support from industry and consumers.
However, the analysts believe that the new platform, being called Tizen, will likely struggle in the market. They say that it will need to attract a large support base from manufacturers and developers alike in order to compete with the large number of mobile platforms which are already available in the market which is dominated by Apple's iOS and Google's Android platforms.
Neil Mawston, who works at Strategy Analytics said that their best chance will be for the big operators of the world getting worried by Android and unanimously deciding to switch their preferred choice of platform from the Google product to its rival platforms in order to restrict the ever increasing influence of Google over the mobile market.
Nokia, the largest phone manufacturer in the world, earlier this year discontinued the Symbian OS, switching to the Windows Phone OS from Microsoft. Windows Phone currently has a market share of around 3%, with LiMo and Meego sharing 1% share of the smartphone market each.