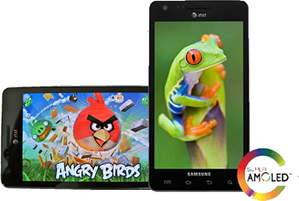 AT&T has confirmed that the popular Samsung Infuse 4G is indeed getting a Gingerbread update that will improve its battery life and navigation systems. According to the US wireless carrier, the Infuse 4G will receive over the air updates from Froyo 2.2 operating systems to the most recent update of the Google Android OS,  Gingerbread 2.3.3. Improvement upgrades, performance updates and minor bug fixes are the reason for the upgrade. For those familiar with the Froyo 2.2 operating system, this is a welcome upgrade from from that OS.
Raising the battery life of a single charge to six hours consecutive talk time is one of the more visible features Infuse 4G owners will notice. Other subtle features will take place behind the scenes, and affect processor performance and web interfacing, allowing for quicker and better navigation according to Google and AT&T. The reveal came via Twitter from AT&T, and was in response to the rumors of just such an upgrade.
It is no surprise that the Infuse 4G is receiving this update at this particular time, as Samsung is releasing the Galaxy S2 soon, and wants to make sure that it does not take any market share away from the popular Infuse 4G. Cannibalizing sales would never help them gain market share from competitors, and this wise business move is only going to benefit those Infuse 4G owners on the AT&T network. This update is exclusive to AT&T customers.
Sporting the largest display in smartphone technology at 4 1/2 inches, the Samsung Infuse 4G carries an 8.0 megapixel camera and secondary 1.3 front facing camera which provides video chat. It comes packed with 16 GB of onboard storage and a 1 GB processor. The Samsung Infuse 4G also offers typical 4G features such as micro-SD slot, micro-USB ports, Bluetooth and Wi-Fi connectivity. The Samsung Infuse 4G allows for recording video in 720p high definition resolution.
The need for extended battery life is obvious. When you have a processor and feature set geared towards maximum multimedia and multitasking performance, the battery wears down very quickly. Kudos to the Samsung for working with Google to provide this update. For those Infuse 4G owners who have not noticed the update, which will come via a notification on their handset, AT&T has assured us that the updates will take place on all AT&T Samsung Infuse 4G handsets by the end of August.  Learn more about this AT&T smartphone with this Samsung Infuse 4G Review.