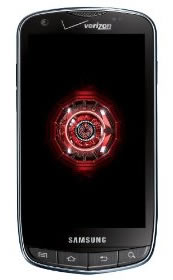 The Samsung Droid Charge is offered on the Verizon Wireless 4G Long Term Evolution (LTE) network, and launched in January of this year. A main component of the Droid Charge is Samsung's Super AMOLED Plus technology that they say makes their display visually superior to the competition. The display was clean and crisp in our review, and offers 480 x 800 pixel resolution. The capacitive touch screen size is 4.3 inches, and supports multitouch gestures.
The onboard processor is a full 1.0 GB Hummingbird Cortex A8 single core chip, and the Droid Charge offers 32 GB of pre-installed memory via the included micro-SD card, with 2 GB of internal memory. The front facing camera on the Droid Charge is a 1.3 megapixel video chat cam which also allows for video telephone calls to be placed, and the rear camera offers 720 P high definition recording and an 8 megapixel resolution with LED Flash and autofocus features.
Android's Froyo 2.2 operating system is on board, and a free over the air upgrade to Gingerbread 2.3 is in effect. Adobe's Flash media player is supported for handling of web videos and other Flash recorded media, and the ability to relay your video and movie favorites to a large screen monitor or HDTV is provided wirelessly through DLNA support.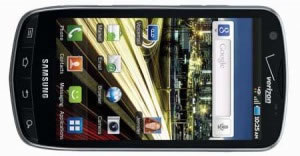 As mentioned above, the Samsung Droid Charge runs on the Verizon wireless 4G LTE network, which Verizon claims will deliver much faster speeds than their reliable 3G platform. You can expect upload speeds of 2 to 5 Mbps and even faster download speeds of 5 to 12 Mbps.
The over the air download and operating system upgrade from Froyo 2.2 to Gingerbread 2.3.3 is provided automatically, with no technical knowledge needed by the end user. Verizon recently dropped the price of the Samsung Droid Charge to one penny, a move similar to their recent retail change on the HTC Thunderbolt at the same price. With more dual core phones arriving on the 4G networks every day, Verizon evidently wants to make single core processors more attractive, and one penny retail price will certainly appeal to budget shoppers and Android lovers alike.