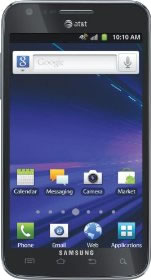 Samsung seems to be on a relentless quest to have the most advanced smartphone available to consumers. As it would appear, the company is succeeding as it currently holds that record with the Galaxy S II. However, as everyone knows, the smartphone war tides can change in a few months and to keep ahead of the competition, Samsung is doing what it has to do which means releasing the Samsung Galaxy S II Skyrocket.
The Skyrocket is an Android phone and is available on the AT&T network. Does it live up to its monstrous name? In one word yes, but read on for the explanation.
Pricing
Galaxy S II Skyrocket 4G White
On Sale Now

Specifications of the Samsung Galaxy S II Skyrocket 4G:
General:
Operates on recently launched AT&T 4G LTE network
Features Android 2.3 Gingerbread
1.5 GHz dual-core Samsung processor
16 GB internal memory, with support for optional MicroSD card up to 32 GB
1 GB RAM
Display:
4.5″ Super AMOLED Plus Multi-touch display
16 million color depth
50 percent more sub-pixels than the previous generation display
Virtual QWERTY keyboard
Full Flash support ensures fast frame rates and high quality graphics
Camera:
Rear facing 8 megapixel camera with flash and auto focus
Front facing 2 mp camera for video chat functionality
1080p HD video capture
Micro USB port
Communications and Internet:
HTML browser support as well as full Flash 10.1 support
Pre-loaded with Google Mobile services
On-board GPS navigation
Wireless-N WiFi and 4G Mobile Hotspot capable
Next generation Bluetooth 3.0 connectivity
Design & Features
Until now Sprint has the more powerful of the Galaxy S II line, Epic 4G Touch. That changes with the Skyrocket which, to start things off, has a dual-core processor that is clocked at 1500MHz. That is 300MHZ above the Epic 4G Touch. RAM is still limited to 1GB with internal storage listed at 16GB. You can expand via microSD and microSDHC cards of up to 32GB.
As for the screen, we are dealing with a Super AMOLED Plus screen that carries 480 x 800 pixels and is capacitive and multi-touch sensitive.
The rear camera is an 8MP model with the ability to shoot full 1080p video, with panorama, auto focus and smile detection. The front facing camera is a full 2MP and works perfect for video calling.
Other than having quad-band GSM, there is LTE capability on the Skyrocket, which lends credence to its name.  There are currently only a few 4G LTE phones on the AT&T network, and the Skyrocket is one of the most prestigious ones.  Bluetooth 3.0, WiFi 802.11n with hotspot support, microUSB 2.0, NFC, DNA and SyncML are all standard. Sensors include gyroscope, compass and accelerometer.
The Skyrocket comes with Android 2.3.4 Gingerbread though we are not sure if or when it will get Ice Cream Sandwich.
Performance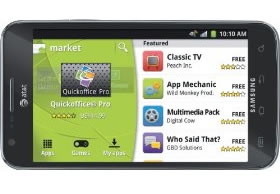 Samsung has once more outdone the competition with the Galaxy S II Skyrocket. There is no comparison in the screen department. In fact, we are pretty sure the screen on this phone is brighter than the one on the iPhone 4S. Granted, the saturation is deeper here , but the only time we ever noticed oversaturation was when we were taking photos.
Speaking of photos, the 8MP camera is ideal for almost anyone and this phone can definitely replace your average point and shoot. That being said, there are a few times we noticed over saturation with the regular settings. However, thanks to the ability to fine tune such things as white balance and saturation, those can be fixed. As for the video shooting, that is great as well. This is not the best 1080p content we have seen on a cellphone, but it ranks with the top.
The front facing 2MP camera will not do picture taking justice, but it is more than adequate for video calling and thanks to our tests over Wi-FI (AT&T LTE is not in our area yet) our video calling buddies said that there was no distortion.
The 1.5GHz dual-core processor is ideal for almost any situation. We had no problem watching HD Flash content and surfing the web, while listening to music and downloading files from Dropbox. Suffice to say, you will be hard pressed to find something this phone cannot handle.
Battery life is greatly improved over previous Samsung Galaxy S devices. On average usage, you should be able to pull a full day's usage before returning to the outlet. Call quality was admirable as well.
Conclusion:
When it all comes down to brass tacks, the question must be asked: is the Skyrocket worth it?  It has a huge screen 4.5 inches to be exact, and this might be too big for some people. With a standard price tag coming in at $250 at AT&T, the Samsung Galaxy S Ii Skyrocket 4G is most certainly worth it and for that price, you are getting a phone that is more powerful than anything on the Verizon lot, and Sprint as well, though the Epic 4G Touch is very, very close in performance marks.  To make it an even better value, select AT&T authorized retailers are coming in around $70 less than AT&T.
If you have no problem with a 4.5 inch screen, we wouldn't see why you would pick another Android phone over the Samsung Galaxy S II SkyRocket 4G, assuming you are willing to stick with AT&T's spotty LTE coverage now, which they vow will spread quickly.  The Skyrocket does work beautifully on the AT&T HSPA+ 4G network as well.