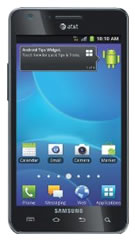 The Galaxy  S II has been on sale in Europe for quite some time now. It recently made its way to the United States and within that time it has become the hottest selling smartphone on the market. With the impending launch of the next iPhone, that is to be challenged, but for now the Galaxy  S II remains the undisputed king of the smartphone race.
The Sprint version of the Galaxy  S II features a 4.52-inch screen while the AT&T version has the same 4.3-inch screen as the European spec'd device. Read on to see our thoughts and perceptions of the phone.
Pricing
Samsung Galaxy S II 4G
3G & 4G connectivity
Dual-core 1.2 GHz processor
Wireless N WiFi
On Sale Now

Specifications of the Samsung Galaxy  S II for AT&T:
General:
Blazing fast AT&T 4G network
Ships with Android 2.3 Gingerbread
1.2 GHz dual-core Samsung Exynos processor
16 GB internal memory, with support for optional MicroSD card up to 32 GB
1 GB RAM
Display:
4.3″ Super AMOLED Plus Multi-touch display
50% higher pixel density resulting in superior graphics and textual clarity
Virtual QWERTY keyboard
Full Flash support ensures fast frame rates and high quality graphics
Ideal platform for playing 3D games and watching movies
Camera:
Rear facing 8 megapixel camera with flash and auto focus
Front facing 1 mp camera for video chat sessions
1080p HD video capture capabilities
Micro USB port
Communications and Internet:
HTML browser support as well as full Flash support
Pre-loaded with Google Mobile services
Built-in GPS navigation
Wireless-N WiFi and 4G Mobile Hotspot capable
Next generation Bluetooth connectivity
Design & Features
Design wise, not much has changed with this version and the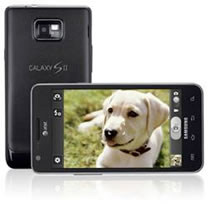 European version. In fact they look almost identical. On the front of the phone is a 4.3-inch 800 x600 pixel Super AMOLED Plus display with Gorilla Glass scratch resistant technology. There is a 2-megapixel front facing camera while beneath the display are the standard menu, home, back and search touch sensitive buttons. On the rear of the Galaxy  S II is an 8-megapixel camera with an LED flash. Said camera will shoot 1080p content at 30fps. On the right side is a power button and the left side features the volume rocker. Standard microUSB and 3.5mm headphone jacks are atop the phone.
On the inside is a 1.2GHz dual-core processor with a full 1GB of RAM. 16GB of internal storage is included as well as a microSD/microSDHC slot that will support cards up to 32GB. So technically, the phone has a maximum theoretical capacity of 48GB. We're assuming that is more than enough storage for the average user.
Bluetooth 3.0, Wi-Fi 802.11n along with A-GPS, gyroscope, digital compass, proximity sensor and DLNA support come standard.
Battery life is rated at 10.4 days of standby and about 5 hours of talk time on 3G and 7 on 2G. Browsing webpages should net you about 10 hours while video is 9 hours and music listening about 20 hours. The Samsung Galaxy  S II for AT&T supports 4G HSPA+ which should give LTE like speeds under ideal conditions.
Performance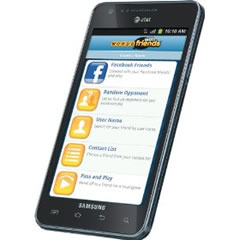 When it comes to performance, there is not another phone that can come close to the Galaxy  S II in terms of performance. We have sent this phone through the rounds many times and are absolutely stunned by its spectacular performance.
First of all, thanks to Android 2.3.4 Gingerbread, we were ultimately amazed by the blistering speeds we noticed in the overall OS performance. This device truly performs as a champion and at times it appeared that the system was moving faster than the screen could update (that's a good thing).
Web browsing is beautiful and fast. The same thing can be applied to Flash content. We had a chance to put Adobe's new Flash 11 through the ropes and it was great. We could easily play 720p Flash content without a single glitch. When we upped the ante to 1080p, we did notice a bit of chocking, but at any rate, those are impressive results none the less.
The screen is great as well. Although it is just 800 x 600 pixels, the contrast is exceptionally high. When compared to the Photon 4G from Sprint and ATRIX 4G from AT&T, it was clear that while those other two phones are great, the Samsung Galaxy  S II took the prize for the more dazzling screen.
On AT&T's network we had some great speeds on data transfer. We were able to average 5MBps in downtown Orlando, marginally better than 3G with no added cost.
Conclusion:
If you are looking for the best performing Android phone available, the Samsung Galaxy  S II is the phone you will want. Heck, this can be classified as the best phone regardless of operating system. Ultimately, we think your decision will depend on personal preference. A 4.3-inch screen is not for everyone and even though the Galaxy  S II is slim, that extra big screen does have its side effects. Thankfully, for the vast majority, this will not be a problem.