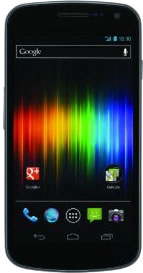 Ever since the Nexus One, Google, with the help of participating OEM's has released a flagship Android phone which serves as a testament to what other Android phones should strive to be like. These phones have been unadulterated by OEM tampering such as custom ROM's, UI modification and a crap load of useless apps that cannot be uninstalled.
With the Galaxy Nexus, Google has partnered with Samsung once more to release its flagship phone, the Galaxy Nexus. This phone raises the bar for what to expect from a cellphone and while it may be slow in coming to the market, it will be the first phone to run the latest version of Android: Ice Cream Sandwich 4.0.
Pricing
Samsung Galaxy Nexus 4G
Android 4.0 Ice Cream Sandwich
Dual Core 1.2 GHz processor
4.65 inch HD display
On Sale Now

Samsung Galaxy Nexus 4G
Android 4.0 Ice Cream Sandwich
Dual Core 1.2 GHz processor
4.65 inch HD display
On Sale Now

Specifications of the Samsung Galaxy  Nexus 4G:
General:
Operates on popular Verizon 4G LTE network
Features Android 4.0 Ice Cream Sandwich
1.2 GHz dual-core Samsung processor
32 GB internal memory
1 GB RAM
Most advanced Google integration
Display:
4.65″ HD Super AMOLED touchscreen
Contour Display Design
1280 x 720 pixel resolution
Virtual QWERTY keyboard
Full Flash support ensures fast frame rates and high quality graphics
Camera:
Rear facing 5 megapixel camera with LED flash and auto focus
Front facing 1.2 mp camera for video chat functionality
1080p HD video capture
Single motion panoramic mode
Communications and Internet:
HTML browser support as well as full Flash 10.1 support
Pre-loaded with Google Mobile services
On-board GPS navigation
Wireless-N WiFi and 4G Mobile Hotspot capable
Next generation Bluetooth 3.0 connectivity
Design & Features
Looking at the Galaxy Nexus, one can only notice the screen, that s the first thing you notice, mainly because it is a curved slab of glass, one that measures 4.65 inches and carries an awesome resolution of 720×1280. This is not your average smartphone screen, and while it is only Super AMOLED it seems to be more than capable.
Running the phone is a dual-core TI OMAP4 processor clocked at 1.2GHz. A dedicated GPU is on board to increase graphical performance, 1GB of system RAM is here with internal storage of 32GB. Unfortunately, there is no possible way to increase the memory as there is no memory slot.
The Galaxy Nexus features a 5 megapixel camera at back, capable of shooting 1080p video with a 1.3 megapixel in front useful for video calling.
As for connectivity features, other than the CDMA version that will be available in the United States on Verizon, a global quad-band version will be available internationally. Bluetooth 3.0 comes standard with WiFi 802.11b/g/n/a, microUSB, NFC and OTA Sync are all included. You are fitted with an A-GPS unit as well for turn by turn navigation.
Performance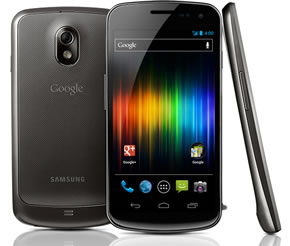 The Galaxy Nexus is a testament to the fact that Samsung is one of the undisputed kings of the cellphone design. The Galaxy Nexus screen is the strong point of this device as it holds the record for most pixel dense screen in the cellphone world. This translates to midrange HD pixel count which provides crisp colors and great viewing angles.
Performance otherwise, thanks to the TI OMAP processor, is great. This phone won't hold records in the performance department as it is clear that the Galaxy S II still trumps the Galaxy Nexus in benchmarks. But in real world examples, you will be hard pressed to notice a difference.
The 5 megapixel camera at the rear of the camera is decent and for the most part performs nicely. We do wish Samsung had fitted the Galaxy Nexus with the same camera module found on the GSII. Unfortunately that is not the case. As for the front facing camera, it is great for video calling, but you will not be using it for self-portraits unless you are happy with subpar picture quality.
Call quality is great but will ultimately depend on the network one chooses. The battery life seems to be in line with that of the GSII, which is a good thing. For the average user, a full day of usage can be milked out of a single charge.
As for Android 4.0, it brings a lot of nice enhancements to the table. Namely is better multitasking thanks to a card like system reminiscent of webOS. The keyboard has been refined and enhanced with better predictive features as well as accuracy. Thanks to speech to text, which has been given an overhaul, it is possible to dictate entire sentences which will be translated into text. Social media integration tighter as well as the camera app has been given an overhaul with better controls over fine-tuning.
Conclusion:
The Galaxy Nexus can easily rank as one of the best Android phones currently available, not because of its hardware specs, but mainly because of Android ICS 4.0 which is a great improvement over Gingerbread which we are seeing on most of the new phones.
Our only major issue with the Galaxy Nexus is that it will be a Verizon exclusive in the United States. With the iPhone already multicarrier, we cannot see why Google signed such a deal with Verizon. Hopefully this deal is only for the holiday season.