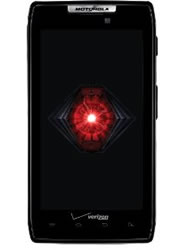 Think of the DROID RAZR of the holy matrimony of Android, Motorola and a whole lot of R2-D2. The DROID moniker should not be foreign to most people, as should the RAZR moniker as well. In fact, when flip phones were still cool, the RAZR easily took the spot for the top selling phone in the United States and held onto that title for quite some time.
Of course, times change and people move on, but just like any iconic brand name, it would be foolish to retire it, and so Motorola has brought back the RAZR line of phones, with the help of Android. The first RAZR was all about style, this DROID version is all about style + power. Can Motorola deliver?
We take a look at just what the Razr is packing under this Kevlar cover and if all initial reports are correct, this could be the thinnest most powerful smartphone out to date.
Pricing
Motorola DROID Razr 4G
Faster, thinner, stronger, the 4G-enabled
4.3-inch Super AMOLED touchscreen
Dual-core 1.2 GHz processor
On Sale Now

Motorola DROID Razr 4G
Power Of Verizon's 4G LTE Network
Thinnest 4G LTE Smartphone
Super AMOLED Advanced Display
On Sale Now

;
Specifications of the Motorola Droid Razr for Verizon Wireless:
General:
Amazing Verizon LTE 4G network
Ships with Android 2.3 Gingerbread
1.2 GHz dual-core processor
16 GB internal memory + 16 GB microSD
1 GB pf LP DDR2 RAM
Thinnest 4G smartphone
Display:
4.3″ Super AMOLED Advanced display
Touchscreen multi-touch input
16M colors and 540 X 960 resolution
Light sensors, proximity semsors
Virtual QWERTY keyboard
Scratch resistant Gorilla Glass
Camera:
Rear facing 8 megapixel camera with flash and auto focus
Front facing 133 mp camera for video chat sessions
1080p HD video capture capabilities @ 30 fps
Micro USB port
Communications and Internet:
HTML browser support as well as full Flash support
Pre-loaded with Google Mobile services
USB 2.0 microUSB
Wireless-N WiFi and 4G Mobile Hotspot capable
Design & Features
Motorola is taking a clean slate to the DROID RAZR. Except for its name, it's hard to tell this phone is related to the iconic RAZR. In fact, it looks like a smartphone mad scientists creation which included amalgamating a DROID X and DROID Charge together. Don't get us wrong, the phone looks sexy, but it looks nothing like what the name would suggest.
At the core of the DROID RAZR is a 1.2GHz dual-core TI sourced OMAP4 processor. This processor is coupled with 1GB of RAM and 16GB of internal memory with the ability to expand via microSD or microSDHC cards of up to 32GB.
Moving along, the 4.3-inch screen is 540×960 pixels and features Super AMOLED technology as well as the usual capacitive multitouch sensors.
Being a Verizon phone, this device will operate on the 800 and 1900 MHz CDMA bands with a 700 band reserved for LTE. Unfortunately, the RAZR will not be able to go globetrotting since it carries no GSM radio.
Other features include Bluetooth, 802.11n WiFi, microUSB 2.0, microHDMI, HDMI, accelerometer, compass and A-GPS. There is an 8MP camera around back and a 1.3MP front facing camera as well. The rear facing camera will do full 1080p video shooting.
The DROID RAZR comes with Android 2.3 Gingerbread installed, but Motorola has made it very clear that Android 4.0 Ice Cream Sandwich is coming to the DROID RAZR.
Performance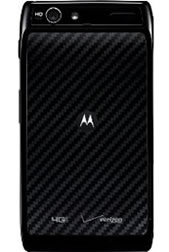 According to Verizon's PR team, this phone is "too powerful to fall in the wrong hands." Is that so? Yes and no. We wouldn't exactly count the DROID RAZR as the most powerful phone we have tested, but it carries plenty of power and definitely more power than the average Joe or soccer mom will need.
Thanks to the 1.2GHz processor, things move swiftly on the screen. We were able to multitask with relative ease and no hiccups or freezing. With Flash, we were able to view all our regular content, though it is a shame that Adobe will no longer be supporting the Flash plugin for mobile devices including Android.
The camera performed nicely as well. We did notice a little grain in photos taken in medium light, but not too much. As for video, we were pleasantly surprised. The full 1080p HD content was pleasing and definitely worth the space it will take up on your internal storage or memory card. It wasn't the best camera we have seen, but if you have used the DROID Bionic and like the camera performance, you should be fine here.
Call quality was great and just like always, we had no issues with reception on Verizon's network. As for data over LTE, we're still getting those awesome 10 and 12 MBps download speeds here and there, but our average happened to be about 7MBps. Still very good and a lot better than most residential high speed connections.
Conclusion:
A lot can be said about the DROID RAZR. It is after all a DROID and performs like one. It's not the best phone we have tested, but it can easily rank among our top five. That being said, we are a bit disappointed because the name RAZR brought back memories of oversized keypads, slimness and sexiness. The DROID RAZR is slim, it is sexy, if you can excuse that huge camera bulge on the back, but does it remind us of the iconic RAZR? Not in the least. Whether that is a good or bad thing, is up to personal opinion, but one thing is clear, with a price point of $299 on a two year contract, this phone is not for everyone. Thankfully, those who pay the asking price will not be disappointed and will find more than a few things to boast about on their friends.