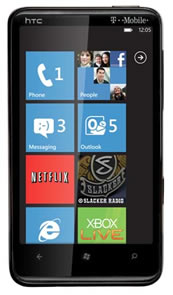 The HTC HD7 is by no means meant to be lost within the crowd. Being among the first Windows Phone 7 devices, the HD7 is available on the T-Mobile network and is bringing many features to the table that HTC, T-Mobile and Microsoft hope will hypnotize customers, and why not, have you seen the size of that screen. That said, read on to find out our impressions of the device.
Specifications of the HTC HD7 Windows Phone:
General:
Runs on massive T-Mobile network
Windows Phone 7 operating system
Qualcomm 1 GHz Snapdragon processor
16 GB internal memory,
Preloaded apps include Netflix, Xbox Live, Zune, and Slacker Radio
Display:
4.3 inch multi-touchscreen HD display
480 x 800 pixel resolution
16 million colors
Onscreen QWERTY keyboard
Proximity and light sensors
Touch sensitive controls
Camera:
Rear facing 5 megapixel camera
Dual LED Flash
Auto focus
720p HD video capture
Micro USB 2.0 port
Communications and Internet:
HTML browser support as well as full Flash support
Text and picture/video messaging
Onboard GPS for navigation
Wireless-N WiFi
User friendly Bluetooth connectivity
Enhanced social networking
Design & Features
If the HD7 looks familiar, you're not going mad, after all it is an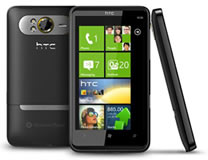 HTC device, and the company is known for using similar designs for most of their phones. However, the HD7 is a direct upgrade to the HD2 as well as adding some features from the venerable HTC EVO 4G from Sprint.
The phone has the same 4.3-inch display as the EVO 4G and HD2. That 4.3-inch display comes with 480 x 800 pixels. On the rear of the device is a 5 megapixel camera that will shoot 720p video content. Dual-LED flash are also included. Unfortunately there is no front facing camera options.
Onto connectivity, you have your standard microUSB 2.0 port, Bluetooth 2.1 +EDR, along with Wi-Fi 802.11n.
There is a Qualcomm QSD8250 chip on board that will give 1GHz of clock speed performance. 16GB of internal storage comes standard on the T-Mobile version (other versions get 8GB). Unfortunately there is no way to expand the memory as the phone does not carry a microSD slot.
Networks supported include GSM quad-band 850, 900, 1800, 1900 and HSDPA on the 900 and 2100 bands, 850 and 1900 or 850 and 2100 bands depending on where in the world you decide to roam with your phone. A-GPS is standard and if you ever get bored, an FM tuner with RDS support is included for all your entertainment purposes.
Other features include digital compass, 1230mAh battery and Windows Phone 7.
Performance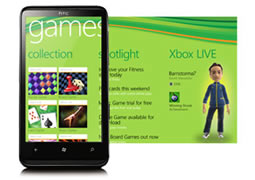 In case you are unfamiliar with Windows Phone 7, the operating system, like the name suggests, is the seventh installment of the Redmond based company's mobile operating system.  One of the most unique features is the integration of Xbox Live into the phone, which provides you with innovative access to your gaming pleasures, including your Xbox Live avatar, and much more!
The software is rebuilt from the ground up and includes many features previously lacking in Windows Mobile 6.5 such as stronger media support, more robust apps, and integration with Facebook, Twitter and Skype support soon to come.
Overall the HD7 preformed smoothly. Microsoft has really brought up the performance of its mobile operating system.
The HD7's battery life is a bit subpar however and in our tests, eked out a mere 5 hours of battery life on 3G browsing, movie watching and music listening. It's not the worst we have seen, but it could definitely be better.
The web browser performed marvelous. Most of the current browsers are based on webKit, however Microsoft opted for the Trident engine, the same one used by Internet Explorer 9.
Call clarity was great as well. In our tests, those on the other end could hear us loud and clear with minor distortion only when signal strength was low. Our 3G speeds were good as well. On average, with good reception, we recorded between 2Mbps and 3Mbps on regular 3G. When we switched to HSPA+, those numbers jumped to 5Mbps and 15Mbps on T-Mobile's network. Granted, those speeds are dependent where you are located. So if you are located in a metropolitan area, rest assured you should be able to receive similar speeds.
Last but not least, the camera, when tested, performed decent. Under bright lighting or even medium lighting, we were able to capture highly detailed shots. When it came to low lighting, we noticed quite a bit of grain in our shots, however, video shooting did not suffer that effect.
Conclusion:
If you are looking for the best Windows Phone 7 device, look no further than the HD7. Thanks to its large beautiful display and fast processor, the HD7 does true justice to the Windows Phone 7 platform. It is one of the first few Windows Phone 7 devices that we have liked so much.
That said, we will warn you that the application market is not as robust as Apple's App Store or Android's Marketplace, but apps are being added at a fast rate and for the most part, the essentials are there. If you want to have an idea of what is available, download the Zune desktop client and navigate to the marketplace to take a look around.