Everyone wants to touch, and if there is any indication that the days of keyboard and mouse imputes are numbered, the huge consumer gravitation to touch devices should be a prime example. Amazon is clearly responding to consumer trends with the release of the Kindle Touch, an entirely new device that is meant to challenge other touch eReaders, namely the Barnes and Nobles Nook Touch. Unlike the Nook Touch however, Amazon is coming in at a price point that is $39 lower, making the Kindle Touch more affordable than its competition.
Pricing
Kindle Touch
6″ in Multi Touchscreen
Borrow Kindle books from public library
Cdog: built in wi-fi & text to speech
On Sale Now

Specifications of the Amazon Kindle Touch:
General:
Book downloads in 60 seconds
Battery Life: 10 days to 2 months depending on wireless usage
Stores up to 3000 books
Whispersync Technology
Text to speech
Real page numbers
Listen to MP3 files
Book lending
Global wireless coverage on 3G model
Millions of books available in Kindle store
Interactive content and games available in Kindle Store
Free Cloud Storage for all Amazon content
Display and Connectivity:
6″ display with E-Ink Pearl technology and multi-touchscreen
Advanced PDF Reader
50% better contrast than previous Kindle model and LCD eReaders
Portrait or landscape view
Adjustable text size
New font choices
Tap to turn pages
Built-in Wi-Fi
Social Networking integration for sharing passages
3G service is free
Borrow Kindle books from public library
Design & Features
Just like the new Kindle, the Kindle Touch features a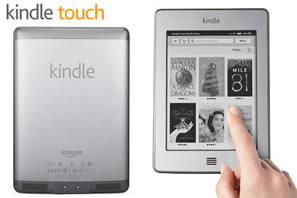 6-inc E Ink multi-touch display, optimized with proprietary waveform and font technology. The screen resolution is identical to the previous Kindle models with 600 x 800 pixels and 167 ppi with 16-levels of gray scale.
Still as slim as ever, the Kindle Touch is a tad bit bigger than the entry level Kindle with dimensions of 6.8 x 4.7 x 0.40 inches; weight is a mere 7.8 ounces. Overall the Kindle Touch is small enough to be held by one hand and thanks to its meager weight, one can without wearying the hand.
There is 4GB of internal space with 3GB available to the user. That should allow 3,000 books to hold on the Kindle Touch. If that isn't enough, Amazon is allowing all content originating from Amazon free storage on the company's cloud storage.
Just like last year's Kindle, the new Kindle will last two months on a single charge which is based on half an hour of reading per day, with wireless off. If you decide to keep wireless always on, usage is limited to 3-weeks.
Just like previous models, there will be Wi-Fi and 3G/Wi-Fi models. Wi-Fi supported includes 802.11b/g/n with WEP, WPA and WPA2 security allowed. HSDPA 3G model with fallback to EDGE/GPRS on the 3G versions is included and will operate on AT&T's 3G network. Amazon is also partnering with other carriers outside the United States for free 3G.
A microUSB chord is included and according to Amazon, four hours should charge the device when connected to a computer. Expect charging to drastically increase if connected to a wall outlet, though a wall adapter is sold separately.
Performance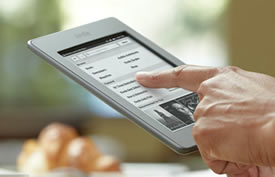 Armed with an infrared touchscreen, the Kind Touch is aimed squarely at the likes of the Nook Touch and Kobo devices. The Kindle Touch is definitely smaller than previous Kindle devices thanks to the touchscreen which subsequently kicks the keyboard through the window.
The touchscreen is very responsive and the screen only needs to refresh once or every 6 pages read. If the task includes web browsing, or searching, refresh times are a bit more, but still not anywhere near annoying and definitely in line with the Nook Touch. Overall we found accurateness to be great for an E Ink device.
As for battery life, Amazon claims two months, and if the previous Kindle models should be any indication of these claims, we would say that they are quite right. With daily reading averaging 2 hours and Wi-Fi off, one should be able to milk out a full 3 weeks if not more of charge.
The 3G model will also support access to the internet via AT&T's 3G network. This should be a plus to those who are looking to take their business to the road instead of trying to find the nearest McDonalds or Starbucks.
Conclusion:
With a price point of just $99 for the Kindle Wi-Fi Kindle Touch and an additional $49 for the 3G version, the new Kindle Touch models are priced aggressively and should be winners among consumers looking to get in on the touchscreen action.
Is the device worth the upgrade? If you have last year's model, we really wouldn't suggest so unless you absolutely must have a touchscreen and a smaller device. If you are rocking a two year old Kindle, definitely consider upgrading to the Kindle Touch, and with such a great price point, we highly doubt the average consumer will find a problem forking over the dollars for this new Kindle. Thankfully, you will still be able to rock the tunes while reading your favorite Stephen King novel.