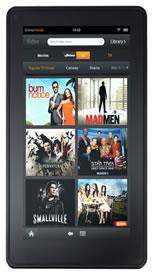 The existence of a color touch screen Kindle has not been exactly been hidden as many industry insiders as well as columnists have been mumbling about such a device for over a year now. It was just recently however, that Amazon decided to make the device official via the company's New York City press conference. The Kindle Fire is a 7-inch IPS touting touch screen tablet that will take aim at not only the Barns and Noble Nook but the Apple iPad as well.
With an aggressive price point, features and specs to boot, the Kindle Fire is Amazon's answer to the tablet craze.
Pricing
Kindle Fire
Stunning Color Touchscreen
100,000 Movies and TV Shows
Dual-Core Processor
On Sale Now

Specifications of the Amazon Kindle Fire:
General:
Size: 7.5″ x 4.7″ x 0.45″
Weight: 14.6 ounces
Battery Life: Up to 8 hours of continuous reading or 7.5 hours of video playback, with wi-fi off
8 GB internal storage space
Over 10,000 apps and games available in Amazon Appstore
Free Cloud Storage for all Amazon digital content
Dual Core processor
Android Honeycomb operating system
Fast and intuitive user interface
Display and Connectivity:
7″ display with IPS technology made from protective Gorilla Glass
1024 x 600 pixel resolution
169 ppi
16 million colors
Amazon Silk cloud accelerated Web browser
Wi-fi connectivity
USB Port
Whispersync technology includes video
Access to over 100,000 movies and TV shows, and 17 million songs
Design & Features
The Kindle Fire features a 7-inch IPS display that boasts a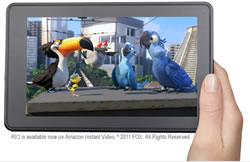 resolution of 1024 x 600. The display is not only IPS, but features Gorilla Glass as well which is known for added protection and glare reduction. That display is powered by a dual-core processor sourced from Texas Instruments OMAP 4 line. Matted with 1GB of RAM and 8GB of storage, the Kindle Fire will reportedly get a total of 8 hours usage on a single charge for reading purposes. Want to watch movies? That number dips to 7.5 hours. All these times are with Wi-Fi off. We expect that these numbers will decrease if Wi-Fi is turned on.
Overall the Kindle Fire is small and with a screen of just 7-inches it is clear that this is meant to be a pocket device, one that can easily fit into a handbag or large coat pocket while still offering enough screen real estate to make watching the latest episode of Glee or Desperate Housewives enjoyable.
Performance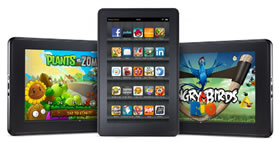 The Kindle Fire offers blazingly fast performance. Needless to say, thanks to the dual-core TI OMAP4 processor, playing Angry Birds or Plants vs. Zombies while downloading a movie will be very possible with smoothness one would expect from an iPad or Galaxy Tab 10.1.
Although the Kindle Fire runs Android 3.2 Honeycomb, the tablet will not have access to the Android Market, at least not initially. That means that Google Maps, Earth, Plus, Docs or other Google applications relegated to the Marketplace won't be available on the Kindle Fire. You do however get access to the Amazon App Store which carries over 10,000 apps and is guaranteed to grow once the Kindle Fire becomes available on the 15th of November.
Android has been overlaid with a skin Amazon has specifically built for the Kindle Fire. According to the boys at Amazon, this irons out the rough edges of the software. We didn't have much time to take the UI overlay for a spin, but from what we saw so far, we are fans of the new UI overlay.
The Kindle Fire will feature Amazon's EC2 web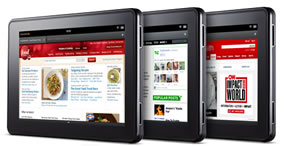 browser which uses the cloud to accelerate browsing. According to Amazon, this will dramatically decrease the load time of websites and the likes. Not only that, but the web browser is equipped with Flash 10.3 as well which means that you shouldn't see all those building blocks that iPhone and iPad users are used to. Unfortunately, due to licensing deals, sites like Hulu will still not work on the browser unless you should spoof the browsers agent.
Last but not least, the devices rating of 8 hours on a single charge is looking quite realistic though and should come in line with the standard we have come to expect from 7-inch devices. Unfortunately, there is no removable battery so you will want to walk around with a charger just in case.
Conclusion: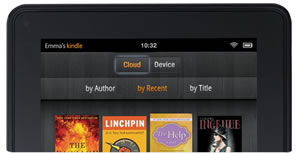 The Kindle Fire is a device that Amazon is betting will vault it to the top of the tablet as well as eReader race. It is clear that at just 7-inches, the Kindle Fire is striking a sweet spot and should blur the lines between an eReader and tablet. Amazon is putting a lot into the Kindle fire and with a price point of just $199, the Kindle Fire has the possibility to be a real hit among those looking for an inexpensive tablet with enough features to keep them happy.
We'll just have to wait until November 15th to see what the public opinion is on the Kindle Fire. As for us, we think that $199 is the perfect price point for such a device and this price tag brings it under the Nook Color which is $250. Should you take the plunge? We did.