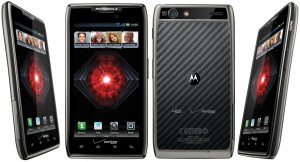 Users of the Motorola Droid Razr Maxx 4G who have received the new ICS upgrade have reported various issues that were triggered by the ICS installation. Some of those issues include significantly reduced battery life and the notifications bar and icons shrinking.  Other users report that they experienced none of these issues, and that one way they avoided problems is to do a factory reset prior to installing ICS.  Feel free to comment on what type of experience you've had with the ICS upgrades and updates.  Many times users find more help in forum or blog comment settings than they do with the manufacturer and carrier.
The Motorola Droid Razr MAXX 4G Android smartphone came into being because its predecessor was simply too good at delivering its central feature. The Motorola Droid Razr 4G was designed as the slimmest smartphone in the world, and also contains an admirable package of hardware and software, delivering great performance running on the Verizon Wireless 4G LTE network. The problem with "super skinny" in the world of mobile handsets is that battery life generally suffers, and this was the case with the Motorola Droid Razr. Needing to amp up battery life, Motorola designers decided to go overboard, and deliver the most run time of any smartphone, yet keep all the admirable characteristics of the popular Droid Razr.
The end result was the Motorola Droid Razr MAXX 4G which also runs on the Verizon 4G LTE wireless system, and currently sells for $99 on contract at select retailers. Battery size was improved by 85%, but the handset is still wafer thin, at only 0.35 inches (8.9 mm) in thickness. That oversized 3,300 mA battery is capable of delivering an incredible 21.5 hours of run time or 15 hours of video playback from a single charge, and battery standby from a single charge is more than two weeks. That absolutely dwarfs the 4G smartphone average of 8.0 hours talk time from a single charge, and there is one more area where the Droid Razr MAXX 4G leads all 4G smartphones.
The handset delivers the most out-of-the-box, user accessible data storage of any 4G smartphone, at 32 GB. That is comprised of 16 GB of storage built in and a removable 16 GB microSD card that ships with the handset. The on board microSD slot also supports microSDHC cards, and accepts cards up to 32 GB in size. 1.0 GB of RAM system memory is also present in the hardware package, and the dual core 1.2 GHz Cortex A9 central processor that handles the handset operations is part of a Texas Instruments OMAP 4430 microchip package that includes a graphics dedicated PowerVR SGX540 GPU.
The display on board the Droid Razr MAXX is 4.30 inches, and that Super AMOLED Advanced screen employs more than 16 million different colors to create visual displays. Resolution is 540 x 960 pixels, delivered at 256 pixels per inch, and a layer of Corning Gorilla Glass offers scratch resistance and glare reduction. On the back of the handset an 8.0 megapixel camcorder provides video capture in 1,080P HD resolution, and a front facing 1.3 megapixel chat cam provides portrait snapshot options, as well as the ability to place and receive video calls. A proprietary YouTube video player is also on board, as is a built-in music player that supports all major file formats. Buy the Motorola Droid Razr Maxx starting at $99.