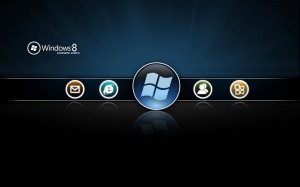 Microsoft has given a pleasant surprise to its dedicated buyers by giving them an option to upgrade from their existing version of Windows to the new Windows 8 at minimal cost of $39.9 only.
This promotion plan was announced on July 2 on the Windows Team Blog. The new price is significantly cheaper than the earlier upgrades that Microsoft offered. In case of an upgrade to Windows 7, it charged its customers somewhere around $119 to $219. This price will be offered in 131 markets and can be availed at Windows.com. Apart from this Windows Media Centre is also obtainable as an inexpensive add-on.
In case one buys the upgrade online from www.windows.com, one will have the benefit of availing an option through which you can buy a backup DVD for $ 15 only with additional handling and shipping charges. On the other hand, if you plan on buying it from a local store, you'll get a packaged DVD version of the upgrade for $69.9 during the promotion period. The promotion period however will run up to January 31, 2013, both online and at retail stores. It will commence as per the general availability of Windows 8.
Microsoft announced yet another offer for those buying Windows 7 PCs between June 2, 2012 and Jan 31, 2013. This incredible scheme offers an upgrade to Windows 8 at a price of $14.99 only.
On the other hand, Microsoft hasn't really revealed the dates of release of the much talked about Windows 8. The latest rumoured dates of manufacturing release are being predicted somewhere near the mid of July, 2012 while many expect that Windows 8 will be available for general public around October this year. Another fact is that upgrades are not the route for many people. Rather upgrades are far from it. People generally get a new version of Windows only when they buy new PCs which have the new versions preloaded on them.
Computerworld has reported that those running the Windows Release Preview will be allowed to move on to the final pro version for a price of just $39.9. Nevertheless, only the personal data files will be kept and no applications or settings will be moved as a part of the entire process.