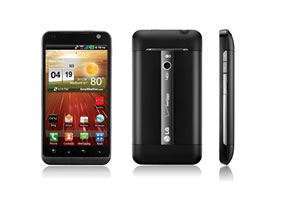 With competitor Sprint offering drastic retail price drops in their 4G product line, Verizon decided they also must get aggressive with the pricing of their 4G products. The LG Revolution running on Verizon's 4G LTE network recently benefited from a price drop it made it as close to a free phone as you're going to get for 4G technology. Verizon is definitely losing money on the front end of the one penny retail price with two year activation. And after the recent 4G upgrade to the LG Revolution 4G, several noticeable pluses have been added to this Android smartphone.
With the new upgrade, expect speeds on the download side of 5 to 12 Mbps and upload speeds of 2 to 5 Mbps. This is up to 10 times faster than Verizon's 3G network. Also, even though this is an Android smartphone, Bing Search and Bing Maps are also now available.
Also, if you have several wireless devices you want to piggyback off of the quick Verizon 4G LTE network, the LG Revolution will now offer mobile hotspot capability for up to 8 devices through a wireless Wi-Fi hookup. This will appeal more to the business-minded user than the average web surfer, but having this capability certainly extends the multimedia options for the LG Revolution as well.
E-mail and messaging applications also receive across the board upgrades, and should be accessed much easier, and sped up. Several technical interior enhancements were also made to the device, and rather than impact any particular feature or area of performance, will help speed up the device over all and improve battery performance.
With 16 GB of onboard memory and micro-SD slot for upgradability to 32 GB, micro-USB slot, Bluetooth and Wi-Fi connectivity, and DLNA, HDMI, and DIVX features, the LG Revolution 4G Android smartphone offers a wide range of multimedia and multitasking options, as well as the ability to hook up through a wired or wireless connection to several other electronic devices and PCs.
With 5.0 megapixel rear camera and 1.3 megapixel front facing can, Google preloaded apps, Adobe Flash player support and Swype technology software, the LG Revolution 4G smartphone rounds out its feature set. Responding to Sprint's aggressive pricing structure and dropping a phone with features found generally in higher-end 4G smartphones to a one penny retail price shows Verizon doesn't plan on giving up their top spot in 4G market share anytime soon.