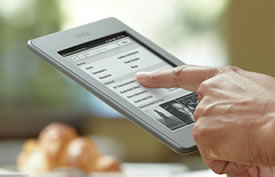 Online retailing giant Amazon was the first eReader manufacturer to create a device that sold consistently, and that customers loved, and this was due to the proprietary and instant access to Amazon's digital marketplace. The eReading technology had existed for some time, and many eReader manufacturers attempted to release an eReading model that would be viable in the marketplace, but Amazon was the first to make the word eReader commonplace, and also made the "Amazon  Kindle" a household name. And while they are usually at the forefront of eReading technology, they were not the first in the consumer electronics industry to release a touch screen version of their popular Kindle  eReader. However, being late to the game doesn't mean the Kindle Touch is substandard in any way.
Amazon has released the Kindle Touch Wi-Fi for $99, and the Kindle Touch 3G for $149. Neither of the two touch screen activated eReading devices requires a subscription or data plan of any kind, and the Kindle Touch Wi-Fi offers worldwide Wi-Fi access. Both models offer the most advanced multitouch E-Ink display currently available, and screen resolutions runs 167 pixels per inch for an overall resolution of 600 x 800 pixels. That 6 inch screen is the same size as previous models, however the new Kindle  Touch eReaders have become lighter and smaller, while still holding up to 3,000 e-books.
8% lighter and 11% smaller than the Kindle 3, the new Kindle Touch eReader device is the only eReader available in the mobile marketplace that offers audio book support, MP3 support and text-to-speech. The built-in Wi-Fi works on both the Wi-Fi only and 3G models, and allows for downloads of e-books, applications, games, newspapers and magazines in under 60 seconds. Amazon signed last year an agreement with over 11,000 libraries in the United States, and the Amazon Library Lending program allows you to "check out" digital content from your local library without leaving your home.
Amazon Kindle Touch eReaders deliver the greatest amount of storage of any eReader available, offering free Cloud Storage for all Amazon content. This virtually gives the Kindle Touch eReaders limitless content availability and access, and a single charge of the new Kindle Touch eReaders can last up to 60 days at a rate of one half-hour daily reading time with Wi-Fi turned off. The new Kindle Touch eReaders also deliver special money-saving offers to the home screen and screen savers on both models, and these offers are generally catered to the interests of e-book lovers and eReader owners.  Buy the Kindle Touch starting at $99.