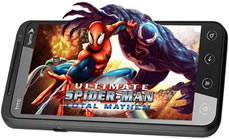 In this smartphone review, we cover the HTC Evo 3D 4G Sprint Android phone. HTC is a small Taiwanese smartphone and electronics company who was on no one's radar as recently as three years ago. Making a name for themselves with groundbreaking technology, the Evo 3-D 4G Android phone is the next in a long line of the first-ever technologies. Allowing users to view 3-D content, video games and movies without the need for special 3-D glasses, the HTC Evo 3-D is a 3-D game changer.
The technology needed for this step forward in 3-D viewing relies on two separate 5 megapixel rear facing cameras, and cutting-edge 3-D software. The two cameras record pictures and/or video from two separate locations, and the 3-D software then extrapolates what a three-dimensional rendering would look like. We expected this first-ever technology to be clunky and average in detail and 3-D rendering. We were wrong. All the video games, movies and content we viewed were startlingly realistic in 3-D mode, and in 2-D mode the HTC Evo 3D 4G still offers better than average 540 x 960 pixel resolution.
The 3-D technology processing is made possible due to a processor that is 20% more powerful and speedy than the standard 1 GHz 4G model. At 1.2 GHz with dual cores and one full gigabyte of RAM memory, the Snapdragon chipset and 3-D graphics card provide one of the stronger and faster processors of all mobile handsets. Aside from producing 3-D excellence in video and still shots, this type of processor allows the end user to multitask to their heart's content, and access virtually any type of multimedia format without worrying about ghosting, hesitation, lag or a subpar performance in any way.
HDMI out capability allows you to ship the 4.3 inch display to a larger 3-D or HDTV, and the usual complement of micro-USB and a micro-SD ports, and Bluetooth and Wi-Fi connectivity you expect to find in a better 4G phone are also present. The rear facing 5 megapixel cameras also record video in 720p 2-D resolution. Considering the amount of features you get, and the powerful processor, as well as cutting-edge 3-D technology, the HTC Evo 3D 4G smartphone is a rather attractive purchase for the discerning 4G smartphone shopper.