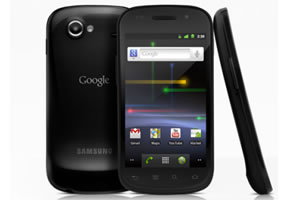 Google's first Nexus S model arrived in late 2010 and was an instant sales success, and the guys and gals at Sprint and Samsung certainly hope the Google Nexus S 4G will follow in those popular footsteps. A recent software upgrade to the Google Nexus S 4G accompanies a Sprint retail price drop to make decisions easier for some 4G Android smartphone shoppers out there. Sprint has been very aggressive lately in their pricing of second generation 4G handsets, but this drop to $29 for a two year activation for a second-generation handset is a very aggressive move to say the least. And the Swype keyboard software update arrives first on the Google Nexus S before hitting any other handsets.
The virtual keyboards are all the rage with the current touchscreen displays that dominate the 4G landscape. And Swype is definitely the most popular and widespread keyboard and multi-gesture application in the Android marketplace. According to Sprint and Google, the Swype upgrade will now allow you to use gestures to launch applications. Also, the Google Nexus S 4G handset will automatically capitalize proper nouns, and personal dictionaries are also added. Currently, only those owners of a 4G handset from Sprint will receive the update, and Google Nexus S 4G owners receive it before anyone else.
A much easier and quicker capability for cutting, copying and pasting text with easier access shortcuts, faster Twitter updates, and quicker Google maps navigation and searching are also on board this update. Samsung's 4 inch Super AMOLED Plus technology and 16 million color support, as well as capacitive display are on board. The processor for the Google Nexus S is a single core Cortex A8 Hummingbird 1.0 GHz chip, and is supported by 512 MB of RAM memory and a 3-D graphics hardware accelerator.
The Google Nexus S 4G delivers a five megapixel rear facing camera and VGA quality front facing chat cam. The rear camera offers DVD quality recording at 30 frames per second, autofocus and LED flash features, and the front facing chat cam also delivers video call capability. The Android operating system in place here is Google's 2.3 Gingerbread, and full Adobe Flash player support is also present.
Common 4G features such as DLNA video-out capability, microUSB port, and Bluetooth and Wi-Fi connectivity are also on board the Google Nexus S 4G. Sprint recently became very aggressive with many of their 4G handsets' pricing, and has dropped the retail price of the Google Nexus S 4G handset in an attempt to take market share from the other two of the Big 3 wireless carriers, AT&T and Verizon Wireless.